Equinix (EQIX) reported 1Q 2010 results on April 21 (see Company's P/R and Seeking Alpha conference call transcripts).
A few days later, Switch and Data (SDXC) announced that the United States Department of Justice had notified Equinix the closing of its investigation with respect to the proposed acquisition of Switch and Data and also that the waiting period under the Hart-Scott-Radino Antitrust Improvements Act of 1976 had been terminated.
The green light from the DoJ allowed the merger to officially close on April 30, 2010.

Further to this news, Switch and Data decided to withhold its 1Q 2010 conference call (results were still filed in a 10-Q form that we'll examine later on in this article).
A quick look at some Equinix metrics disclosed for the 1Q 2010, before we dig deeper into the potential of the two combined Companies (as a reminder, some interesting Equinix non financial metrics are available on the I/R section at this link):
Revenues of $248.6 million, a 3% increase over the previous quarter and a 25% increase over the same quarter last year

Adjusted EBITDA of $117.3 million, a 5% increase over the previous quarter and a 28% increase over the same quarter last year – as a reminder cash generated from operations represents about 85% of adjusted EBITDA, and came at about $ 100 million in the quarter

Increased 2010 annual revenue guidance to $1,065.0 million to $1,080.0 million

Increased 2010 adjusted EBITDA guidance to $470.0 million to $480.0 million

Basic net income per share was $ 0.36, in spite of acquisition costs of $ 5 million (or almost $ 0.13 per share)

Cash gross margins came at 66% (70% in the US), with adjusted EBITDA margins of 47%, and an EBITDA flow through rate of 92%

77 new customer adds, the best result since 3Q 2008

Almost half of the remaining available cabinets in the US already pre-assigned

a red flag: while the Company added about 500 cabinet equivalents in the quarter, Asia was the main contributor to this result (with about 300 new cabinets), while the U.S. only added about 100 cabinets, ending the quarter with a weighted average cabinet equivalent billing of 23,600 units.
Let's go through some comments made on this specific metric during the conference call:
Keith Taylor - CFO

Despite our revenue growth and strong booking trends across all three regions, the U.S. experience a poor incremental net cabinet billings metric in the quarter both on the quarter end on our weighted average basis against these expectation. This result was created by higher churn occurring at the end of both Q3 and Q4 of 2009 and with the majority of the U.S. regions Q1 bookings occurring in the last month of the quarter.

It muted the underlined performance of this metric. Said differently, we have a healthy backlog of bookings that will turn into billing cabinets into revenues in Q2 and the rest of the year. This result is partially affected by our lack or limited inventory in some of the key markets, including New York thereby our booked incremental sales have yet convert into billing cabinets as would not yet opened in New York-4 Phase III expansion.
This passage from the conference call sounds like saying that the Company is partially suffering from its own success (limited inventory in some key markets), a problem that will be addressed by new openings later in the year and partially also by the addition of inventory available in the SDXC data centers (as Switch and Data had a much lower occupancy rate, in general, see their latest disclosure later on).
More color from Steve Smith, CEO:
we could face some temporary capacity constraints in the middle of the year in three of our six markets, which highlight the importance of bringing on the new capacity in this region as I discussed earlier.



Above all, we would describe this quarter as another very solid one, driven by firm pricing in all markets and good operating leverage. The "weak" (to the Equinix standards) cabinet additions in the USA forced a few analysts, like Oppenheimer's Srinivas Anantha, to talk about "mixed operating metrics". We see this more like a seasonal/timing issue and remain confident about the Company's potential. Colocation recurring revenues still grew 2,8% Q/Q and 21,5% Y/Y in the US, even in spite of this relatively disappointing number.
Equinix also announced a good sized two phase expansion in Dallas (in spite of Switch and Data's presence in the market already with three sites providing an aggregate of over 70,000 gross square feet of space, with connectivity to 120 networks), and a few other recent openings like the second IBX in Amsterdam (Netherlands) and the third data center in Paris, France.
An update of future IBX openings is available at this link.
Switch and Data reported revenues of $ 56,695 million for the 1Q 2010 (+20% Y/Y), with a 63.7 % occupancy rate. Revenues came slightly shy of analysts' consensus of $ 56,9 million.
Cabinet equivalents billed were 8,920 for the 1Q, with 332 net cabinets added in the period (a confirmation that the north American market remains in good health, in our opinion).
As SDXC disclosed in its 10Q filing (pg. 22):
Approximately 43% of new sales in the three months ended March 31, 2010 were in our new or expanded data centers.



Inventory available is key to good results, right now.
A quick look at the Company's geographic revenue split (click to enlarge):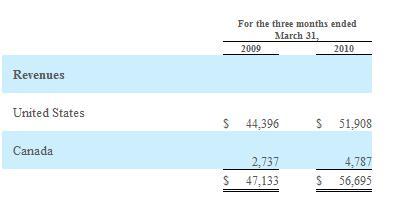 The performance in Canada (+75% Y/Y) is even more interesting as Switch and Data recently announced new customer wins and added services in its Toronto data center:
IPC to Provide Low-latency Exchange Interconnection Solutions as First GeoReachSM Participant for Switch and Data's Toronto's Financial EcoCenterSM
Switch and Data Announces Opening of its Newest PAIX® Internet Exchange in Toronto to Satisfy Growing Internet Peering Demand in this Key Canadian Market
With combined revenues of over $ 300 million in the 1Q, the "new" Equinix will be facing integration challenges in the close future but also enjoy a strengthened leadership position in the North American market, with potential synergies that will eventually unlock further operational leverage.
In a recent article about the Equinix and Switch and Data combination, TeleGeography described the merger using these words (emphasis added):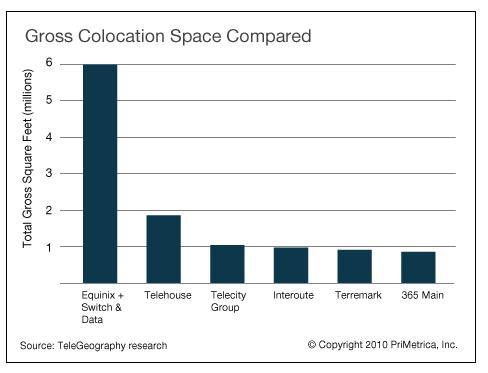 Equinix's acquisition of Switch and Data, which is expected to close on Friday 30 April, will create a colocation services giant that dwarfs its competitors, both in the US and globally. Equinix's gross floor space will increase from five million to more than six million square feet — approximately three times more than its largest competitor, Telehouse. While Equinix has emerged as by far the largest provider of colocation services, the sector remains highly competitive. In the New York metro area alone, Equinix contends with over 50 competitors.



The main reasons why we remain very positive on the potential future developments for Equinix have already been expressed in several of our recent articles, and may be resumed in the unbalance existing between offer and demand for colocation services (solid momentum), and the fact that the Company has the best management in the industry, with a history of consistent execution, successful integration of acquired Companies, and great insight into customers' needs (80% of new bookings come from the installed base).
As further support of our opinion, we'd like to quote a recent presentation highlighting the main trends in the Internet space.
Arbor Networks, the University of Michigan and Merit Network presented this Two-Year Study of Global Internet Traffic At NANOG47 – here is an interesting chart:
ATLAS Internet Observatory - 2009 Annual Report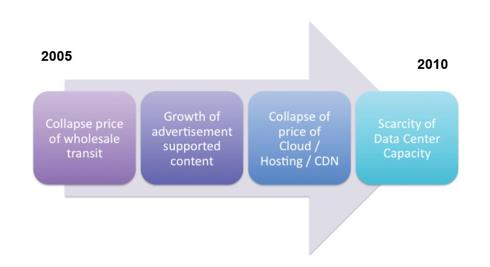 As you may understand, a Company like Equinix, with a leadership already established in the sector, and that has been capable of growing its inventory even during the credit crunch, sounds like the player who should benefit the most form this trend.
For a different opinion about the colo market, however, it may be worth quoting Gartner's Lydia Leong and her recent blog post:
Getting real on colocation

Of late, I've had a lot of people ask me why my near-term forecast for the colocation market in the United States is so much lower (in many cases, half the growth rate) when compared with those produced by competing analyst firms, Wall Street, and so forth.

Without giving too much information (as you'll recall, Gartner likes its bloggers to preserve client value by not delving too far into details for things like this), the answer to that comes down to:

Gartner's integrated forecasting approach

Direct insight into end-user buying behavior

Tracking the entire market, not just the traditional "hot" colo markets
While a more conservative approach to the sector's potential may be justified, Equinix's proven capacity to grow beyond market average must not be forgotten, and the Company's presence in the most important markets (where it represents the hub of the largest networks and ISPs), and its capacity to build specific eco-systems (think about the financial sector, where being in close proximity to the exchanges is a must for customers) represent a strong differentiator for Equinix, in our opinion, giving the Company a premium to its competitors, and allowing ambitious growth targets.