A couple of press releases recently issued by the company, and some indirect confirmation of new products, launched at MWC 2011, that will contribute to its future royalty stream make it probably useful to update our readers about Immersion Corporation's (IMMR) latest developments.
On February 11, Immersion announced a licensing agreement with Bayer MaterialScience AG, a haptics technology provider with its affiliate Artificial Muscle.
Artificial Muscle describes itself as a manufacturer of actuator and sensing components based on a proprietary platform called Electroactive Polymer Artificial Muscle (EPAM). EPAM technology offers, according to the company, significant advantages over traditional technologies used to provide movement.
Here is a quote from their presentation:
AMI's high fidelity haptics recreate those extreme sensations and many in between to deliver the 'real feel.' As a result, Reflex brings interest and excitement to any electronic device. When tactile feedback provides guidance, web browsing and menu navigation becomes more intuitive. Games are more stimulating when Bayfol Reflex™ effectively integrates sight, sound and touch. Depending on how you apply Bayfol Reflex™, the smooth glass touchscreen feels like keys on a keyboard or coarse sand paper.
On several occasions, Immersion's management team has been asked if there is any kind of competition for its IP. The company has always addressed this question saying that "no haptic" is the only real choice that customers are facing if they want to integrate a decent haptic effect into their products – a way to say that there is no other real competitor in the market.
Artificial Muscle was probably one of the new players emerging in the market behind these questions. This license agreement seems to confirm that Immersion's IP is needed to support their technology proposal, and bodes well for other similar situations.
Yesterday, Immersion announced that Alps Electric Co., a leading global components manufacturer, has extended and expanded its license to Immersions TouchSense haptics technology. The license was due to expire in 2012, and has now been extended through 2016, with a broadened coverage.
Alps is a premier supplier of automotive systems to some of the world's most important automotive brands. It is interesting that the previous agreement wa due to expiry exactly at the time when Visteon Corporation (VC) plans to introduce its haptic control panels, also licensed from Immersion.
Immersion's business model, based on royalties deriving from the sale of products incorporating its technology, makes it necessary to track any new development from its major partner. It is reassuring to notice that even the latest MWC, held in Barcelona, seems to bode well for the future.
Immersion Corporation recently updated its partner news page, whose read is always an interesting way to get an insight into of the launch of new products.
As Mobile World Congress 2011 recently came to an end, there are several new haptic phones/tablets that deserve being mentioned and whose success might positively impact Immersion's future revenues.
Let's have a look at some of these partners' product launches, after reminding our readers that royalties are reported in the following quarter after a product has been sold/shipped, so that if you are trying to model the impact on revenues of a new device, it is safe to add at least a quarter to its official launch date.
Samsung (SSNLF.PK) introduced at least two products that were positively received at MWC: the Samsung Galaxy Tab 10.1 and the new Galaxy S II phone.



Here are some of the articles quoted by Immersion, starting with fonehome UK, that describes the new Tablet as an "iPad beater":
Make no mistake – Samsung is gunning for Apple. As well as unveiling an iPhone beater in the Samsung Galaxy S II, it's also taking aim at the iPad with the new Samsung Galaxy Tab 10.1.

The Samsung Galaxy Tab 10.1 benefits from a 10.1-inch touchscreen, differentiating itself from the 7-inch Samsung Galaxy Tab and granting a useful half-an-inch (almost) extra screen space over the iPad.

In the land of the tablet, the screen is king – even more so than on smartphone. Hence the Samsung Galaxy Tab 10.1's bigger screen is a major plus point in its fight against the iPad.
Engadget has also a very complete review of the device, including a nice video. We also get some information about the product launch:
Samsung says the 10.1 will be launching in March in both Asia and Europe -- Vodafone will be the first carrier to nab the Tab -- but it had absolutely no timing details for the US market. Price? We've got no idea, though we're told it will be "competitive."
CNET runs an extensive review of the Galaxy S II, including its main improvement over the previous model:
Dubbed the Samsung Galaxy S II, the handset improves on its predecessor in a number of ways. First, you've got the addition of a dual-core processor.

It also runs the latest Android 2.3 Gingerbread, but unlike the Nexus S, the Galaxy S II will feature Samsung's custom TouchWiz user interface.

Design-wise, the Galaxy S II features a 4.3-inch Super AMOLED Plus touch screen with a WVGA 480x800-pixel resolution. Samsung's Super AMOLED screens already provided one of the richest viewing experiences on a smartphone, but the Super AMOLED Plus adds 50 percent more subpixels, and we certainly noticed a crisper, smoother picture, and colors popped off the screen.

Though there's a social and multimedia aspect to the device, Samsung has also worked to make it a more business-friendly smartphone. As a result, the Galaxy S II includes on-device encryption and support for Cisco's mobile solutions for VoIP calls, VPN, and virtual desktop.
LG (LGERF.PK) launched one of the mobile phones that attracted the most attention in Barcelona, the Optimus 3D.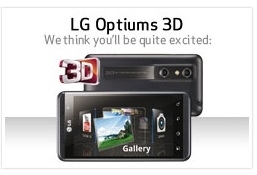 Here is a quote from Anandtech's review of the device:
The Optimus 3D features (surprise) a 3D autostereoscopic display from LG. Both the IPS panel underneath, and the parallax barrier on top are LG's own. Most of the Android UI is of course 2D - the parallax barrier can be switched on and off or varied in intensity depending on the context.

We got some time to check out the 3D capable YouTube application. It's not an extra or an add-on, but rather Google's own real official YouTube application. It just happens to have 3D support included. Right now that YouTube version is exclusive to the LG Optimus 3D, but it'll eventually move into the market and onto other phones as they too get 3D capture and playback support.

Gaming

LG also worked with Gameloft on a number of titles, including N.O.V.A. 3D. We got to play around and were decently impressed. LG spent a lot of time going over which scenes should have negative or positive parallax, and includes a depth slider for intensity. Other 3D games also include depth sliders and even allow 3D to be disabled entirely. There are a bunch of other uses for 3D that LG is working on with, including more close work with Google in other applications.
Android Headlines has more information about the launch date:
The Optimus 3D is due for release in Q2 and LG claims it will not be much more expensive than the non-3D Optimus 2X.
For those of you who might be interested, there is a complete review of the LG Optimus 2X at Engadget, which you may read at this link.