Switch and Data (SDXC) recently settled three shareholder class action lawsuits, thus removing a few more obstacles toward its sale to Equinix (EQIX).
In connection with this settlement, the three lawsuits and all claims asserted therein would be dismissed with prejudice, including the claims brought against Switch and Data and its directors. Switch and Data and the other defendants deny all of the allegations in the lawsuits and believe that the existing disclosures regarding the proposed merger are appropriate under the law. Nevertheless, Switch and Data and the other defendants have agreed to settle the putative class action lawsuits in order to eliminate the risk, burden and expense of further litigation, to fully resolve all claims raised in the lawsuits, to permit the merger to be consummated without the risk of injunctive relief or delay, and to permit Switch and Data's stockholders to receive the consideration provided for in the merger.
Switch and Data shareholders are expected to vote on the merger next January 29, and further to that the only remaining obstacle to the closing of the merger is the US Department of Justice investigation, as its green light is required for Antitrust reasons. However, this scrutiny has already contributed to delaying the Equinix and Switch and Data merger into the 2Q 2010.
To resume, Equinix and Switch and Data first filed a Notification and Report Forms with the Antitrust Division of the Department of Justice, whose waiting period under the HSR Act was due to expire on December 4, 2009. Later, Equinix voluntarily withdrew this application, and re-filed the form on December 7, 2009, thus extending the waiting period an additional 30 days to January 6, 2010. On that day, Equinix received a Request for Additional Information from the Antitrust Division. This second request basically extended the waiting period imposed by the HSR Act until 30 days after Equinix has substantially complied with it, and for this reason the Merger is not expected to close in the first quarter of 2010, as planned.
We are no lawyers, but we believe that, given the low single digit market share of the data center sector hold by the combined Companies, there should be no problem to get the deal authorized, unless the DoJ looks at the smaller network neutral sub-sector, or at the interconnection side of the business model (as both Equinix and Switch and Data are leaders when it comes to peering points, although this specific market is shared with other important competitors like TelX, etc. in the US).
More interesting from an investor point of view, a few more details about the merger were disclosed in a FORM 8-K filing, made on January 19, that gave additional insight into the combination of the Companies and the background to it.
This Supplement supplements and amends the Proxy Statement dated December 21, 2009

On January 19, 2010, counsel for parties in all three lawsuits entered into a memorandum of understanding in which they agreed upon the terms of a settlement of all lawsuits.

As contemplated by the proposed settlement, Switch and Data is providing certain additional disclosures that are supplemental to those contained in the Proxy Statement.
We already noticed, in our article "Equinix Plus Switch & Data: Looking Forward" that the two Companies estimate cost synergies in the range of $20 million per year, as first revealed by Equinix during the NASDAQ OMX Investor Conference. It now appears that this is the low range of the synergies estimated by Switch and Data during the merger negotiations:
During the discussion, it was noted that, unlike a transaction with the International Party (which, as discussed above, would have been structured as a merger of equals without any premium to Switch and Data's stockholders), the proposed transaction with Equinix offered Switch and Data stockholders a significant premium for their Switch and Data common stock and was expected to create substantial synergies for the surviving entity. Mr. Olsen advised the board of directors that Switch and Data's management estimated that a combination with Equinix could result in an annual reduction in expenses of approximately $20.0 million to $25.0 million due to the elimination of certain duplicate expenses and fee-based services.
We believe that these costs savings are achievable, once the integration is fully operative, and notice that they represent well over 10% of the cash costs of Switch and Data, per year.
Another small note, from the filing:
The board of directors also determined not to aggressively seek to have a post-signing market check because, in the board of directors' judgment, such a market check was unlikely to result in a more favorable proposal in light of the significant proposed premium, and during the course of the negotiations, it became apparent that insisting upon a post-signing market check would likely imperil the proposed transaction with Equinix.
Those readers who remember what happened after Equinix announced the acquisition of IX Europe probably don't need to be told why Equinix was not willing to leave this opportunity to Switch and Data shareholders (Equinix had to spend about $73.0 million more than originally forecasted for its European acquisition).
Getting back to our analysis of the business plans for the next few years, disclosed in a filing by both Equinix and Switch and Data, we recently got a few more comments which are worth a mention. As a reminder, both Equinix and Switch & Data predicted growth above 20% for the next 4 years, with a drop below this level just in the 5th year: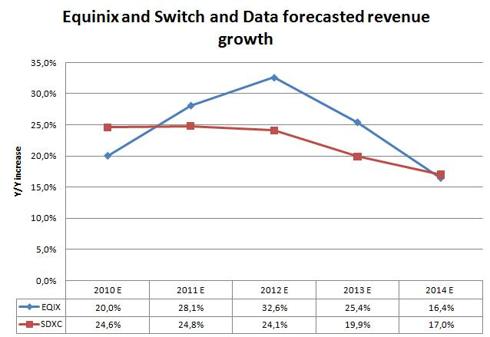 Here are the two "forecasts" (although we shouldn't use this word) - click to enlarge:


At the recent Citi Global Entertainment, Media, and Telecommunications Conference Keith Taylor, Equinix CFO, put the whole thing into the right prospective, as far as Equinix is concerned:
What is included in the S-4 is basically a plan, a plan of what could we do over a five-year period. That plan is 2009, it's lower than projected guidance for 2009. In fact, it's lower — and that's on the revenue line, and EBITDA line. And it gives you outlook to 2010 as well, and it's slightly lower than what we give you on a growth rate for 2010.
There's also more insight into future CAPEX for expansion, thanks to a direct question by Citi analyst, which includes a comment about the financial vertical:
Mike Rollins—Citi Investment Research—Analyst

And just thinking about the investment that you are making in Switch & Data, does that then count towards some of that revenue capacity and CapEx? So in a way, is there a risk that looking at that plan is double accounting because in a way you are buying a lot of the capacity and some of the expansion that I think you were originally hoping to do.

Keith Taylor—Equinix, Inc.—CFO

The plan did not contemplate any duplication with Switch & Data. The only place where we will get a little bit of — not a little bit — more meaningful capacity is in New York, and we get a little bit of capacity in Dallas. But overall, these are all new markets that we want — that's an organic plan where we wanted to be as an industry, or as a company. And so that's what we think we can do. When you throw on Switch & Data, there's an opportunity that is even greater. So I don't think it's going to displace any meaningful CapEx. I think it might defer it for a short period of time.

But in New York, the biggest issue — and we're quite concerned. Even though we're in construction today for the final phase of our New York-4 Phase III asset, that we will run out of capacity very, very quickly because that gives you a sense of the pent-up demand for that asset.