Equinix (EQIX) will be reporting 3Q 2010 results on Tuesday, October 26th.
It is impossible to write an Earnings Preview without mentioning first the recent drop in share price (more than 30%) due to the revenue warning issued by the Company on October 5th.
According to this update, third quarter revenues will be in the range of $328.0 to $330.0 million, and adjusted EBITDA greater than $140.0 million (better than expected).
As we mentioned, most investors quickly took the exit door after Equinix's management seemed to indicate that growth wasn't as strong as expected, and some price concessions were necessary to secure long term contracts with key customers.
Institutional investors seem to have behaved more cautiously, and so far only one institution owning more than 5% of the Company filed a reduction in ownership, with other funds like Goldman Sachs and Bamco apparently still holding their shares.
We still believe that, in spite of a few problems, the fundamental positive trends for the sector and the Company are still in place, as expressed by Equinix in their recent filing "Responses to Questions Pertaining to Business Outlook" that followed the post warning conference call.
Investors confidence will probably take some time to restore, and execution will be closely followed in the next few quarters.
The Company will also address growth expectations as it will release a first forecast for 2011, on the conference call following the earnings release.
For a recent research on colocation trends, you may also refer to TeleGeography's "

Colocation Capacity Struggles to Keep Up with Demand"
There will be several metrics under scrutiny by the investing community at this call. Among them, weighted average recurring revenue per cabinet, which has been growing steadily in the last few quarters, and might be an important indication of price stability in the sector.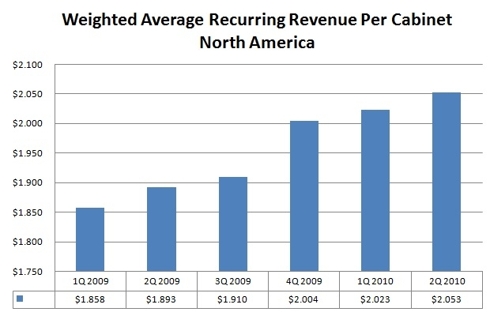 For those of you interested in tracking the most useful metrics for this sector and this specific Company, we have compiled an interactive spreadsheet which is available, in partnership with Data Center Knowledge, at this link.
We will also be closely monitoring guidance and sales results, for confirmation that the warning was just an unexpected road bump, and we believe that a few data will show a positive trend, as the Company continues to execute its integration of Switch and Data and improves margins in the acquired entity: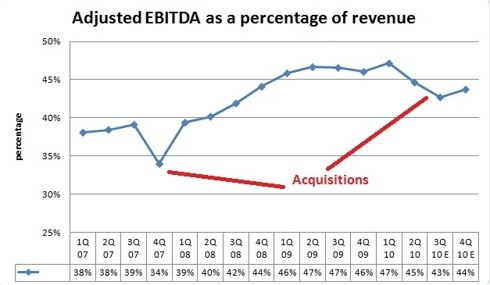 According to management's comments in the last conference calls, Switch and Data's Adjusted EBITDA performance has already improved, and Equinix is still targeting 50% Adjusted EBITDA margins in the long term for the combined Companies.
While we remain optimistic about the long term prospect for Equinix, it is important to underline that some analysts share several concerns about the Company, as expressed for example by Morgan Stanley's analysts Simon Flannery and Edward Katz, here reported by MySmartTrend:
"Although management sized the potential impact of turnover at 25% of the base in North America, visibility on customer vertical and geographic mix remains lacking. Additionally, integration issues surrounding soft Switch and Data bookings are unresolved. Unlike consensus, we continue to believe that FCF burn is likely through 2011. Despite the stock's valuation (apart from the credit crisis) at historical trough levels of 7.3x our 2011E EBITDA, we view EQIX as a show me story."