On November 11th, Equinix (EQIX) held its analyst day in New York, highlighting its initiatives for long term growth, and in an attempt to regain investors' confidence after the revenue warning of Q3.
During the meeting, several macro trends of the data center sector were touched, which are certainly worth being resumed for our blog readers. In this article, we will also include some slides prepared by Equinix to support its presentation to investors, as they help visualize some interesting trends.
Among the key business drivers supporting strong demand for data center services, Equinix underlined mobile traffic (due to double every year through 2014), video (due to represent 90 percent of consumer traffic in the longer term), and cloud computing, which is forecasted to triple revenues by 2014 (data mainly from Cisco Research).
Gartner Research, in its "Hyperdigitization Creates Major Opportunity for IT Service Providers" forecasts that the digital sector will represent roughly 25% of GDP by 2020, and in the same time frame IDC sees the digital universe growing 44 times.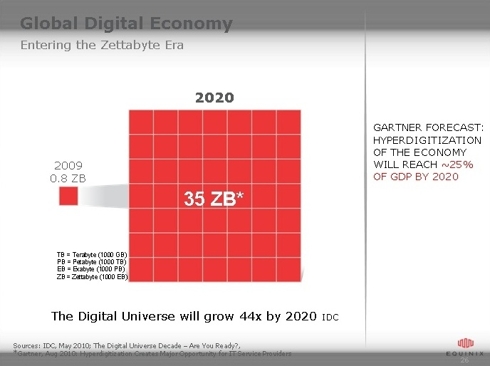 This massive forecasted increase in network traffic, reflecting people's need to use, share and distribute information, data, applications and content, both for business and leisure, represents the major driver for the need of additional infrastructure in the Telecom sector, and data centers, in general, will enjoy their share of growth going forward, too.
Despite increasing supply of new data center space, both in the wholesale and retail market, industry research shows that demand may still outpace supply, at least in the close future (data from Tier 1 Research and TeleGeography).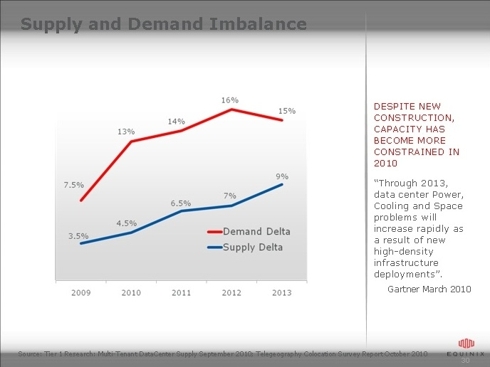 While a few data differ among research companies, there is a general agreements that growth should still be a two digit number going forward, and Equinix itself is estimating its target market (retail customers with strong interconnection needs) to be growing 12 to 14 percent until 2013.
Using Equinix as a bellwether for the whole sector, it also seems that Europe and Asia will outpace USA in growth in the next few years (both markets having historically been "behind" the US market in this specific sector).
Asia, in particular, is the fastest growing economy in the world, due to represent one third of the world's GDP by 2015, and the data center sector will also benefit from local Governments' push to make the area a leading digital market, and from the increase in data security regulations, also directing, in some cases, to the request to "keep data" locally.